Blog
Details

Hits: 141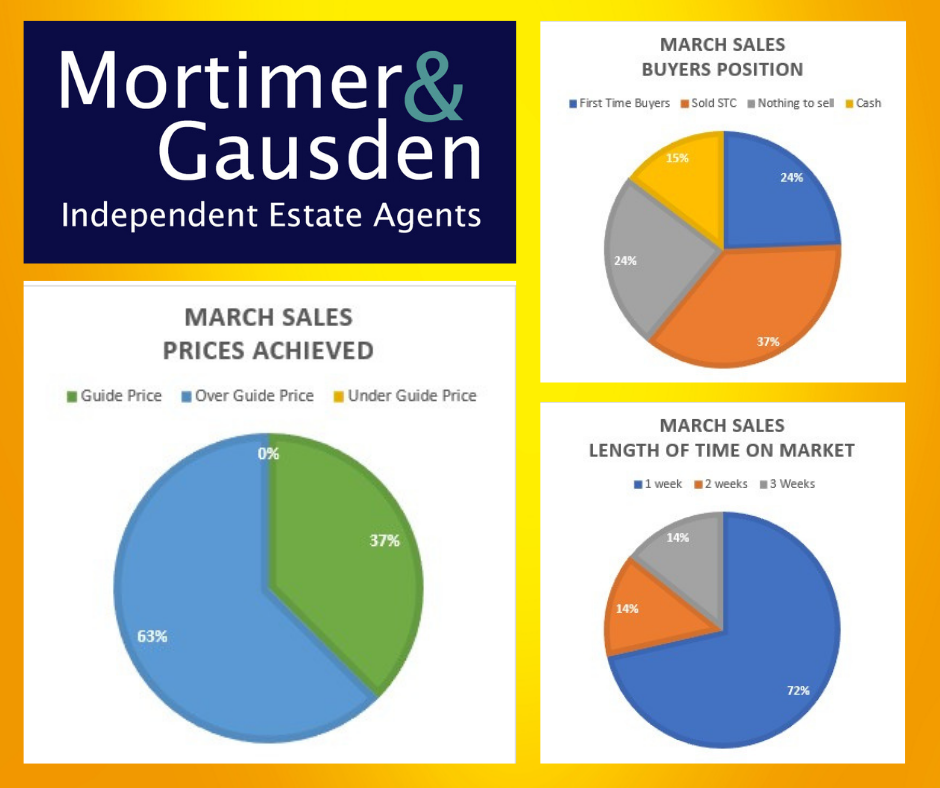 We have had another very busy month, selling many lovely homes across the bury area. Our figures for March have surprised even us and for those of you who like a good pie chart we thought we would share our results.
Prices achieved - 37% of our sales were at their guide asking price and an impressive 63% of properties sold, achieved over their guide price …….which means nothing sold for less than the price we set.
Time taken to sell – 72% of the sales we agreed were within the first 7 days of the property being launched, 14% sold within 2 weeks of marketing and nothing took longer than 3 weeks.
Buyers' Position – 37% of buyers had already agreed sales on their own homes, 24% had nothing to sell, 15% were true cash buyers and 24% were First Time Buyers. It was interesting to see that some of the sales to first time buyers were on properties over £400,000!
The key to our success is a combination of accurate valuation advice and comprehensive marketing – the results speak for themselves.
If you are thinking of moving and would like a valuation, please call us on 01284 755526 or fill in the valuation request form on this site
Details

Hits: 242
Are
you getting frustrated that when a suitable property appears on rightmove and other property portals, it seems to be sold before you get the chance to take a look at it - if so, we have good news!
From now on, every property we list will appear on our own facebook page first, so if you follow us on facebook you will be sure to hear about not only the properties about to be listed but also some of those coming up in the future.
To find and follow us on facebook simply search for Mortimer & Gausden
Details

Hits: 246
Spring to the market!
The question of the best time to put your house on the market is one we agents get asked on a regular basis. Of course the answer is when it best suits the client. But if you find yourself being able to decide, then the answer has to be in March.
According to figures obtained from the UKs leading property portal, Rightmove, research has revealed that March is the month when the most buyers get in touch with agents for each property available. Put simply demand begins to overtake supply so home-movers coming to the market in March have the best chance of securing a buyer. Add to that the fact that the quest for more outside space increases as the weather improves, with buyers aiming to be in their new home by summer.
So if you're thinking of moving soon now may be the most productive time to take that leap! For any more advise or to have a chat about that the next step involves call the team at Mortimer & Gausden on 01284 755526
Details

Hits: 203
As one of the town's leading Independent Estate Agents, we are proud to sell some of the loveliest houses in the Bury area.  We know how lucky we are to live and work in the town and can think of countless reasons why Bury St. Edmunds is so special.   
To share our passion, we are hosting a photography competition and invite entries for 2 categories
Category One – Artistic and Awesome
This one is for those of you who have taken a photograph of a building or landscape in the Bury area that you are particularly proud of. So, whether you have an iconic image or Ickworth or an amazing image of the Abbey – we want to see it!
Category Two – Fun and Friendly
You can let your imagination run wild here. Simply put, we want to see images that will bring a smile to everyone's face.  Do you have an image of you or your friends having fun in the park or maybe a photograph of your dog posing outside your favourite café? If it makes you smile, we want to see it!
To enter simply email your image to: This email address is being protected from spambots. You need JavaScript enabled to view it. Please add a description of where the image was taken or what it is of.
All entries will be judged by our local experts: Nick Betson from Nick Betson Photography, Local artist Kim Whittingham and owner of Art in East Anglia, Michele Bailey.
The competition closes on February 20th and the owner of the winning image in each category will receive a £50 shopping voucher, a framed certificate and of course the glory of being this year's winner!
Terms and Conditions
The image must be yours to send in and you must have the permission of anyone in the image for it to be displayed. By entering you also give us permission to use the image.